TOUR 3 (6 hours)
Potsdam Gardens and Palaces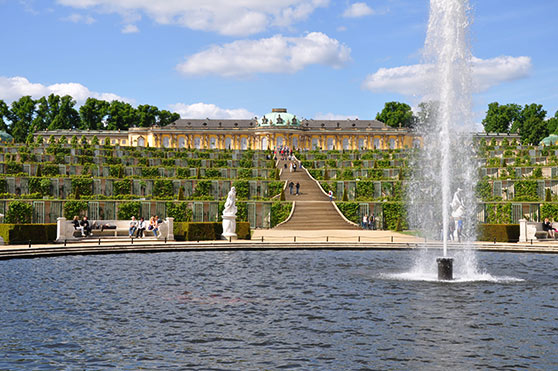 Potsdam is just a short distance from Berlin and is the place where The Prussians erected their most beautiful palaces, It is a UNESCO World Heritage Site. With breathtaking views in between Lakes and Forrests. Come see its splendor, its decadence, take a trip back in time into the palaces and history of this great Prussian Warrior Kingdom. -At the end of the Second World War, Winston Churchill, Harry Truman, and Joseph Stalin met here to discuss the division of Germany and the reconfiguration of a continent which would have to contend with the Iron Curtain, and the Cold War.
You will see the Glienicker Bridge the bridge that crossed the Iron Curtain, where many spy exchanges took place by the C.I.A., and the K.G.B. It has also been seen in many historical documentaries and films
We will also go to the Cecilienhof, the last living quarters of the Monarchy, and the location where the Potsdam conference took place, a conference attended by Churchill, Truman and Stalin.
Our Tour Also Includes:
The Holy Lake
The New Garden
The Marble Palace – home to Frederick William II
The Orangerie
We will also show you ex STASI and KGB Prisons
The Forbidden Town
Alexandrowska
The Nauener Gate
Hunters Gate
The Old Dutch Quarter – know as "Little Amsterdam"
Sanssouci, - a Rococo palace in the purest form, build for Federick The Great
Frederick the Greats Final Resting Place
(Ruinenburg) Ruin Hill
Contact and costs:
Carlos Paucar
Email: info@toursberlin.es
Telephone: 0049 15775378510 (Whatsapp)